About Downtown Shawnee
Organized in 1989, Downtown Shawnee is a recognized Main Street Community that thrives to improve all aspects of the downtown. By building on our downtown's inherent assets, rich architecture, personal service, and traditional values, Downtown Shawnee's approach has rekindled entrepreneurship, downtown cooperation and civic concern.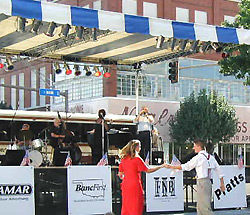 The Four Point Approach
Downtown Shawnee, Inc. has adopted the following approach:
Design: Enhancing the physical appearance of the commercial district by rehabilitating historic buildings.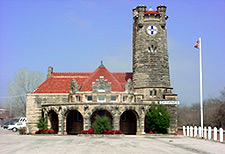 Organization: Building consensus and cooperation among groups and individuals who have an important role in the revitalization process.
Promotion: Marketing the downtown's assets to customers, potential investors, new businesses, local citizens and visitors.
Economic Restructuring: Strengthening and expanding the district's existing economic base.
Downtown Shawnee has active committees implementing these approaches to downtown revitalization.
Why is Downtown Shawnee so important?
• A vital downtown is a symbol of community pride, economic health and local quality of life.
• A vital downtown retains and creates jobs, which in turn, means a stronger tax base.
• A vital downtown reduces urban sprawl by demonstrating a wise use of community resources such as infrastructure, tax dollars and land.
• A revitalized downtown attracts tourists and tourist dollars, by virtue of historic buildings, unique businesses and special events.
• A healthy downtown is an ideal location for independent businesses. This, in turn, keeps profits in town, supports local families with family?owned businesses, supports local community projects and provides an extremely stable economic foundation.
• A healthy downtown affords property owners increased occupancy rates as well as stable or higher rents, greater return on initial property investment, less risk of vandalism or fire and protection of property values.
• A healthy downtown gives civic organizations a public space appropriate for civic projects and increased partnership opportunities. It provides a place where the community can congregate.
• A healthy downtown opens up employment opportunities, places to go and things to do for local youth.
What does Downtown Shawnee do?
• Publishes a Monthly Newsletter in the Shawnee Sun the Last Friday of each Month
• Provides Internet Web Page Links for all Members
• Offers a Low-Interest Loan Program for Downtown Business Expansion
• Provides an Inventory of All Available Building in Downtown
• Sponsors the Oklahoma Art, Wine and Jazz Festival that brings 1000's to Downtown Shawnee
• Sponsors Oklahoma's Largest Nighttime Annual Christmas Parade
• Develops Cooperative Group Advertising and Promotions that bring Business to Downtown Merchants
• Hosts Educational Seminars
• Helps business owners with Energy Grants
• Offers Group Health Insurance to our Business Members
Home | About Us | News | Events & Calendar | Projects | Properties | Newsletter | Contact Us