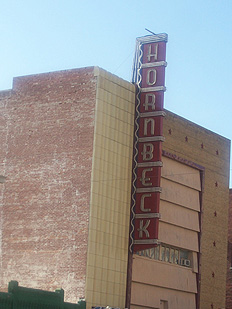 Downtown Shawnee is a non-profit organization dedicated to the revitalization of downtown Shawnee. Through the efforts of Downtown Shawnee, local business people, public officials, merchants and residents, downtown Shawnee will become an interactive, multi-cultural commercial and residential district offering a variety of opportunities including: shopping, cultural and sporting events, dining and entertainment. By promoting a friendly, caring small town atmosphere that instills a sense of community pride and well-being, our residents and merchants will prosper.
View the 2006 Downtown Shawnee Christmas Parade Commercial

Centennial Celebrations
Oklahoma's Cenetnnial is here!!

Downtown Shawnee, Inc. Hires New Director
The Board of Directors has voted unanimously to hire Diana Robertson as the Downtown Shawnee, Inc. Main Street Program Director.

Congratulations Eva Pickren
Congratulations on 18 ribbons at the Pottawatomie County Free Fai


And the Winner for the 2006 Best Adaptive Reuse Project is …. Shawnee – Aldridge Housing Associates
Aldridge Recognized As Best Adaptive Reuse Project On Statewide Basis At Main Street Event
Reprinted from The Shawnee Sun


About Us | News | Events & Calendar | Projects | Properties | Newsletter | Contact Us